Dupont Tychem 2000 QS127T case of 4 Coverall  NO SALES TAX AND FREE SHIPPING.  Respirator-fit hood lined with Pro Shield 6 SFR fabric.Covered, braided elastic at hood. Nylon zipper with large metal pull. Chin flap with double-sided adhesive tape. Storm flap covers zipper which can be sealed by the wearer with double-sided adhesive strip to prevent intrusion at zipper. Covered, braided elastic openings at wrist and ankle for tighter fit. Taped seams. Meets the U.S. industry requirements for blood (ASTM F1670) and viral penetration (ASTM F1671) protecting against several bloodborne pathogen exposure risks.
. 
Tychem 2000 SFR provides chemical and secondary flame protection in a lightweight garment. Tychem 2000 SFR garments are intended to be worn over primary flame resistant garments. In the event that a flash fire occurs, they won't ignite and won't contribute to additional burn injury if appropriate flame-resistant personal protective equipment, such as DuPont™ Nomex®, is worn beneath.


Tychem 2000 SFR represents a new generation of secondary flame-resistant chemical garment technology. Unlike traditional secondary flame resistant chemical garments that have been available for years, new Tychem 2000 SFR garments were specially designed to meet dual hazard needs of a protective chemical suit with secondary flame resistance. This unique combination of performance permits Tychem 2000 SFR garments to be worn over primary flame resistant (FR) garments like Nomex® when chemical splash and flash fire hazards exist. The fabric used in Tychem 2000 SFR garments is a unique technology. It doesn't char like traditional secondary flame resistant technologies. Instead, it was designed to shrink away from flame - without burning.
We engineered Tychem® 2000 SFR garments to perform well in flame engulfment scenarios. Extensive ASTM F1930 (instrumented thermal manikin) testing was conducted during the development of Tychem® 2000 SFR garments to aid in garment design and component selection. The final Tychem® 2000 SFR garment continues to demonstrate excellent performance when exposed to a fire engulfment. In fact, when tested side-by-side, Tychem® 2000 SFR garments yield a much lower predicted body burn level and much less afterflame than competing garments, including Lakeland Pyrolon® CRFR. The performance of the actual garment when exposed to a fire engulfment should be the key deciding point for selection of a secondary FR garment. Using ASTM F1930 testing for 4 seconds of flame exposure, when worn over Nomex® IIIA coverall 6oz/yd2, Tychem® 2000 SFR shows 9.3% body burn, versus Lakeland Pyrolon® which shows 28.1% body burn.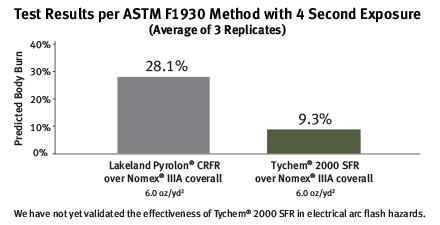 Tychem 2000 SFR garments also provide an effective barrier against a range of inorganic acids and bases as well as industrial cleaning chemicals and particles. They're an ideal option for keeping workers safe from chemicals, while not compromising the flame protection of fire-resistance clothing worn beneath them. Applications include: refineries, petrochemical plants, laboratories, hazardous maintenance operations.